Communiqué de presse
Des chercheuses et chercheurs de l'EPFL ont construit une passerelle piétonne à partir de murs d'un bâtiment en rénovation. Les blocs en béton armé ont été sciés un à un sur place puis réassemblés en un arc précontraint. Une première mondiale qui vise à réduire drastiquement l'impact environnemental de l'industrie de la construction en y appliquant les principes de l'économie circulaire. Le vernissage de la passerelle se tiendra le 11 octobre au Smart Living Lab de Fribourg.
Il y a de nombreuses craintes qui freinent le réemploi du béton. Nous voulons montrer que ces craintes sont majoritairement infondées et que les éléments de réemploi sont fiables et tout aussi utiles que les neufs.

Corentin Fivet
Contact
Corentin Fivet
Head of Structural Xploration Lab (SXL)
Tenure Track Assistant Professor- EPFL
-low carbon and reusable
-load-bearing systems
-design and construction processes

Maléna Bastien Masse
Structural Xploration Lab (SXL)
Postdoctoral Researcher- EPFL
-low carbon and reusable
-load-bearing systems
-design and construction processes

Corentin Fivet, professeur assistant tenure track à l'EPFL, explore depuis des années le potentiel de l'économie circulaire dans la construction. Après le métal, son équipe du Laboratoire d'exploration structurale (SXL), basé au Smart Living Lab de Fribourg, s'est attaquée au réemploi du béton. L'objectif: construire une passerelle piétonne de 10 mètres de portée à partir de 25 blocs de béton issus de murs initialement destinés à être démolis. Le résultat final a été soumis à un essai de charge et est prêt à l'emploi. Son vernissage est prévu le 11 octobre, à la Halle Bleue du Smart Living Lab.
Jan Brütting, récent docteur du SXL et instigateur de ce projet, y a consacré son post-doctorat aux côtés de Maléna Bastien Masse, qui poursuit les recherches dans le cadre de son propre post-doctorat. La pratique du réemploi impose un nouveau processus de conception, remplaçant la fabrication sur-mesure par la sélection d'un stock de composants donnés aux propriétés variées et partiellement maîtrisées. Afin de tirer parti de cette nouvelle complexité, le SXL a récemment développé un outil numérique pour automatiser la sélection d'éléments issus d'un stock, tout en minimisant l'empreinte environnementale de la nouvelle structure
L'arc est idéal pour réutiliser ces blocs de béton, puisqu'ils seront sollicités en compression uniquement
La preuve par la pratique
Dans la pratique cependant, le réemploi est souvent perçu comme un risque supplémentaire. Les scientifiques de l'EPFL n'y voient pourtant que des avantages. Afin d'éprouver rapidement cette assertion, le projet de prototype de passerelle a été lancé. «On s'est donné deux mois pour trouver un bâtiment source dans la région et une entreprise de démolition qui serait motivée à travailler avec nous», explique Maléna Bastien Masse. L'entreprise Diamcoupe se montre alors intéressée à participer à l'expérience. Un chantier de transformation d'un immeuble construit il y a moins de 10 ans leur paraît une opportunité idéale pour extraire les éléments de béton souhaités. «On leur a demandé de scier les pièces aux bonnes dimensions et de percer les blocs d'un bord à l'autre, pour que nous puissions ensuite passer les câbles de précontrainte fournis par l'entreprise Freyssinet et nécessaires à la construction de l'arc.»
Des blocs de 20 centimètres d'épaisseur ont ainsi été collectés pour la construction de la passerelle. L'ajout de mortiers aux joints a permis de compenser les variations dimensionnelles des pièces, facteur inhérent aux stratégies de réemploi. «L'arc est idéal pour réutiliser ces blocs de béton, puisqu'ils seront sollicités en compression uniquement», précise Jan Brütting.
Nouvelle donne
Ce prototype, soutenu par une bourse ENAC Innovation Seed Grant, ouvre un champ de recherche fertile pour le Laboratoire SXL, inscrit dans la Faculté de l'environnement naturel, architectural et construit de l'EPFL. «Actuellement, une majorité de bâtiments en Suisse sont en béton. La production de ciment y est responsable de 7% des émissions anthropiques de CO2. Le béton constitue 35% des déchets de démolition. En fin de vie, il est aujourd'hui, au mieux, réduit en gravier ou en granulats pour constituer de nouveaux bétons recyclés, ce qui demande à nouveau beaucoup d'énergie. A la place, découper et réemployer les blocs tels quels évite la production de nouveau ciment et la génération de déchet inerte. Le nouveau bilan carbone n'est pas nul mais est drastiquement réduit. Le 'downcycling' du béton obsolète est retardé», explique Corentin Fivet.
Les démolisseurs, qui étaient jusqu'ici en bout de chaîne, deviennent les nouveaux producteurs de matière première, suivant les principes de l'économie circulaire. Ingénieur civil architecte, le chercheur s'intéresse aussi aux raisons menant à l'obsolescence du bâti construit et aux conditions architecturales favorisant la mise en œuvre de composants réemployés.
Appel à l'industrie
En attendant, les chercheuses et chercheurs de l'EPFL appellent le monde de l'industrie à passer à l'action. «Il n'existe pas de nouveau pont en béton ayant une empreinte carbone aussi basse que celui-ci. Imaginez que tout béton de structure obsolète soit réemployé en pièces et remplace une partie de la demande mondiale de béton neuf! Nous pourrions alors vraiment agir sur l'urgence climatique à laquelle nous devons faire face», souligne Corentin Fivet.
Vernissage: 11 octobre 2021 à 17h dans l'Atelier PopUp du Smart Living Lab, à la Halle bleue de blueFACTORY, Passage du Cardinal 13b, 1700 Fribourg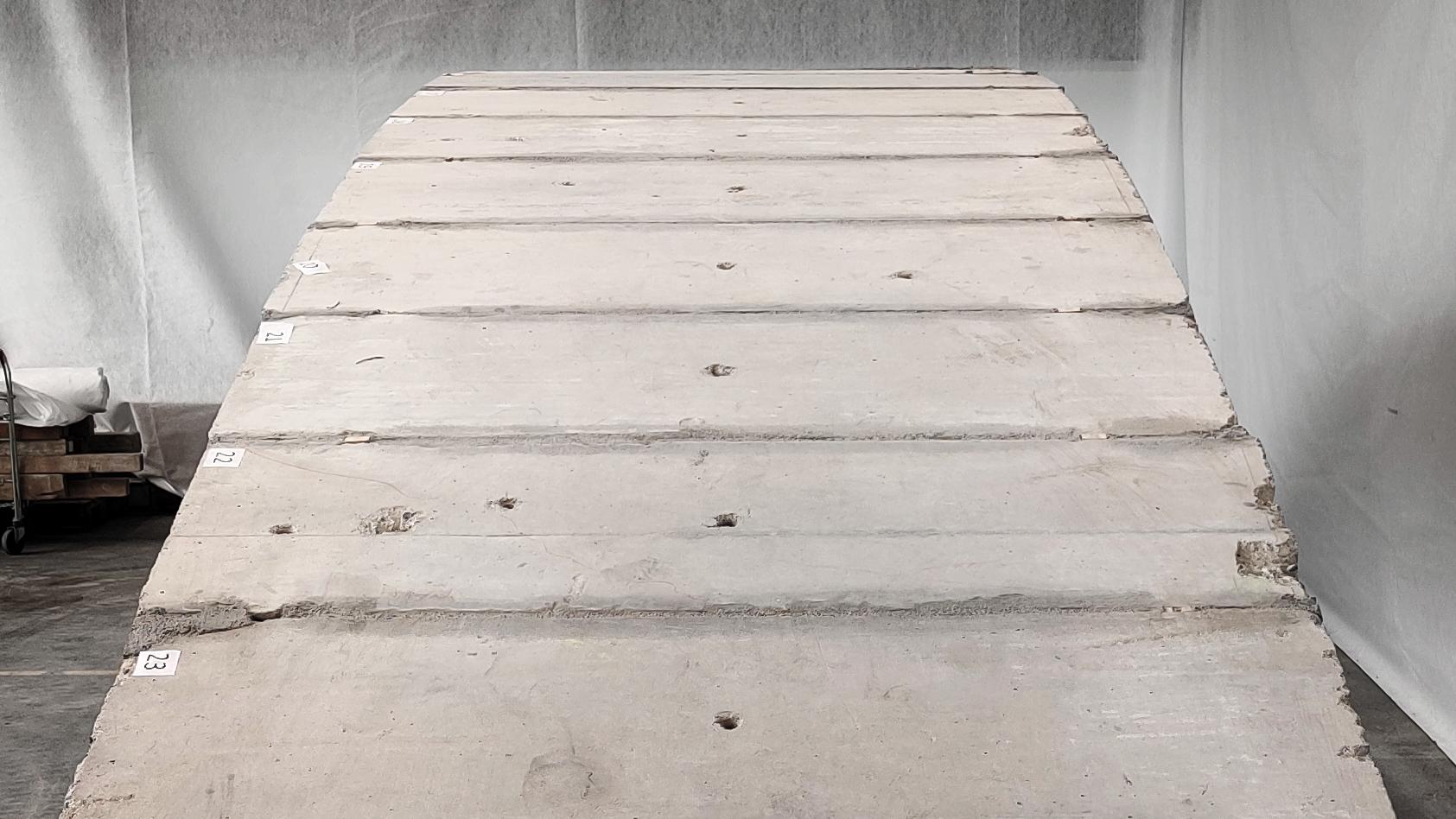 Il n'existe pas de nouveau pont en béton ayant une empreinte carbone aussi basse que celui-ci
Press release
EPFL researchers have built a footbridge prototype using reinforced-concrete blocks from walls of a building being renovated. The blocks were cut into individual pieces on site and assembled into a prestressed arch. This project, which marks the first time concrete has been reused in this way, is part of an initiative to substantially shrink the construction industry's carbon footprint by adopting a circular economy approach. The footbridge will be inaugurated at a ceremony at the Smart Living Lab in Fribourg on 11 October.
"People are hesitant to reuse concrete due to a variety of concerns"
"People are hesitant to reuse concrete due to a variety of concerns," says Corentin Fivet, a tenure-track assistant professor at EPFL and head of the Structural Exploration Lab (SXL) within the Smart Living Lab. "But we wanted to show that those concerns are largely unfounded. Blocks of concrete that are selected for reuse are just as reliable and useful as new blocks."
Fivet has been studying potential applications of the circular economy in the construction industry for years. His team at SXL, which is part of EPFL's School of Architecture, Civil and Environmental Engineering (ENAC), initially looked at metal and now also turns its attention to concrete. This project in particular involved building a 10m-wide footbridge out of 25 blocks of concrete taken from walls destined to be torn down. The project engineers have now finished load-testing the new structure, meaning it's ready for the inauguration ceremony at the Smart Living Lab's Halle Bleue on 11 October.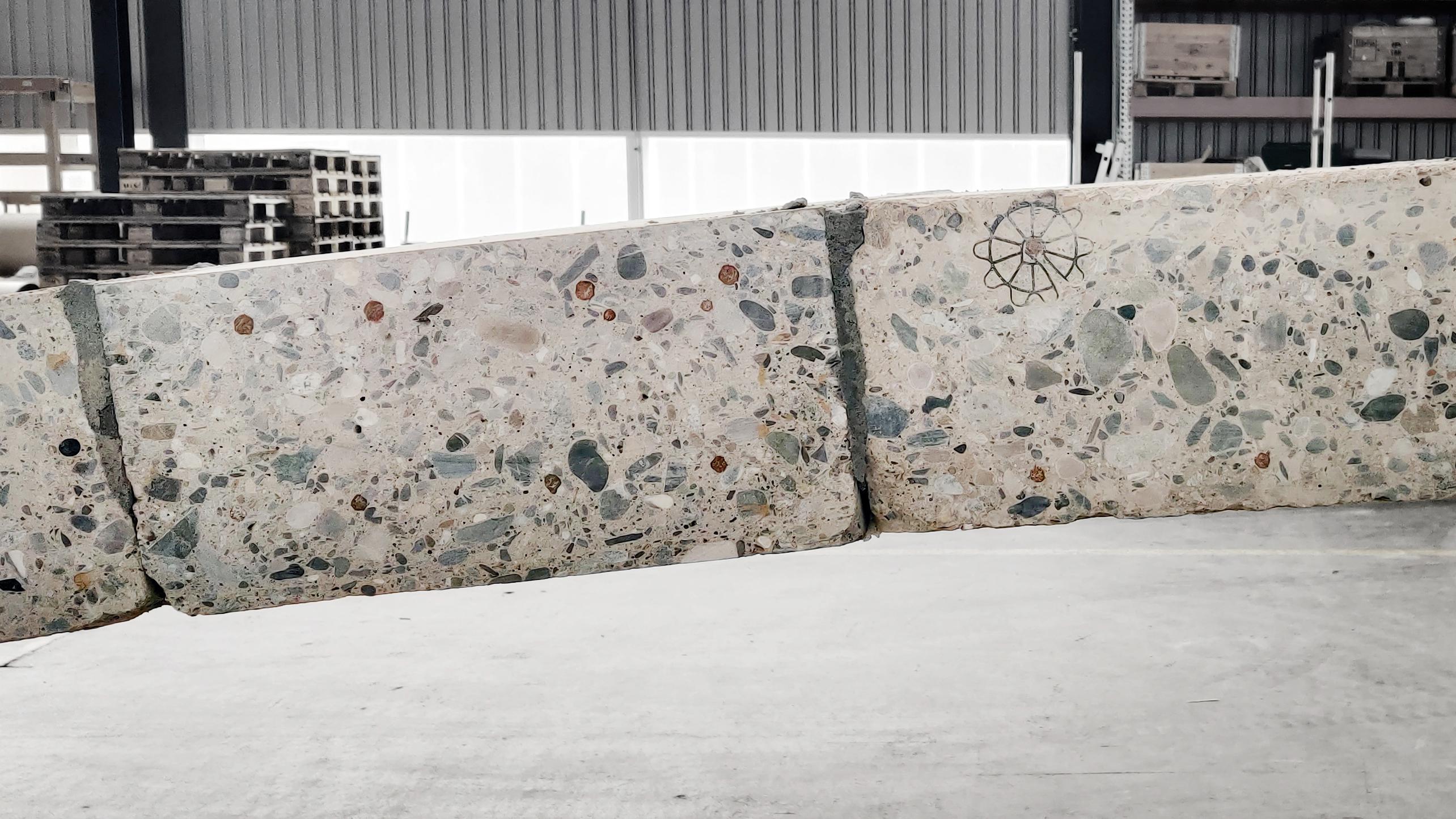 Jan Brütting, a recent PhD graduate from SXL who initiated this project, conducted this research as part of his postdoc along with fellow EPFL postdoc Maléna Bastien Masse. For concrete to be reused effectively, new design methods are needed that are based on exploiting existing concrete sections, rather than the conventional approach of pouring fresh concrete in line with each project's specifications. The catch is that the properties of existing sections can vary and are not always known ahead of time. To help engineers employ these new methods, SXL recently developed a computer program that automates the process of selecting reclaimed elements from a given stock and minimizes a new structure's carbon footprint (download the program here).
Proving its worth in practical applications
In practice, builders are often reluctant to reuse concrete due to the perceived additional risk. But the SXL team believes there are only benefits to be had. That's where their project of building a footbridge prototype comes in: to demonstrate, quickly and efficiently, that the procedure is safe and relevant. "We gave ourselves two months to find a source building in the region and a demolition company that would be interested in working with us," says Bastien Masse. That company turned out to be Diamcoupe, which had been commissioned to renovate a building erected less than 10 years ago; this renovation site was the perfect opportunity to source viable blocks of concrete. "We asked Diamcoupe to cut the concrete into the sizes we needed and to drill holes through them for our prestressing cables. These cables were provided by Freyssinet and used to build the arch," she adds.
The engineers were thus able to obtain 20cm-thick concrete blocks for the footbridge. They added mortar in places to smooth out the slight differences in dimensions, which are inevitable anytime objects are reused. "Arches are actually the ideal structure for repurposing concrete blocks, since the material is only subject to compression forces," says Brütting.
"No other new concrete footbridge has a carbon footprint as small as ours"
Opening up new horizons
This project, which received funding from an ENAC Innovation Seed Grant, opens up promising new research horizons for SXL. Fivet explains: "Most buildings in Switzerland are made out of concrete, and producing this raw material accounts for 7% of CO2 emissions from anthropogenic activity. What's more, concrete makes up 35% of demolition waste. When the material reaches its end of life, it's at best broken down into gravel or granulate to create recycled forms – but that consumes a lot of energy. If we were instead to cut up concrete blocks and reuse them, we could both prevent the need to produce more concrete and eliminate the inert waste. The carbon emissions from this process wouldn't necessarily be zero, but they would be drastically reduced. We would delay the need to downcycle obsolete concrete."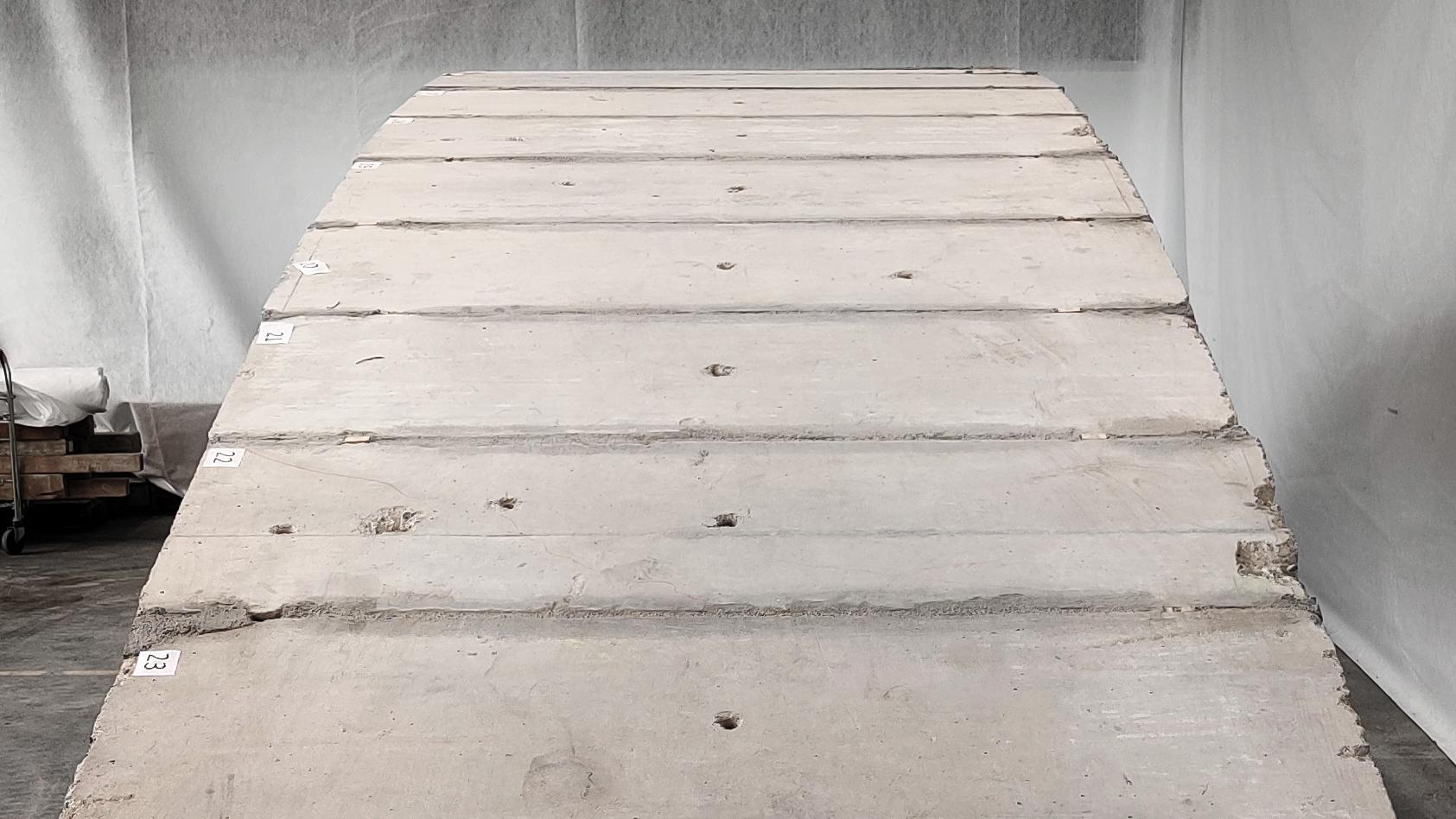 Under this circular economy approach, demolition companies – which until now have been at the end of the value chain – would also become producers, kicking off a new cycle. Fivet, true to his training as an architectural engineer, is also currently studying the factors that lead a building to become obsolete and the architectural characteristics that would facilitate the reuse of obsolete building components.
Calling on the entire industry
The SXL team's project is a call to action for the construction industry. "No other new concrete footbridge has a carbon footprint as small as ours," says Fivet. "Imagine if every obsolete concrete structure out there was cut into blocks and used to meet some of the global demand for new concrete. That would be a big step towards addressing some of the most pressing climate-change challenges."
Vernissage: 11 October 2021 at 17:00 in the Atelier PopUp of the Smart Living Lab, at the blue Hall of blueFACTORY, Passage du Cardinal 13b, 1700 Fribourg.
Author: Sandrine Perroud
References
Fivet C, Brütting J. Nothing is lost, nothing is created, everything is reused: structural design for a circular economy. Struct Eng. 2020;98(1):74–81.
Brütting J, Vandervaeren C, Senatore G, De Temmerman N, Fivet C. Environmental impact minimization of reticular structures made of reused and new elements through Life Cycle Assessment and Mixed-Integer Linear Programming. Energy Build. 2020 May;215:109827.
Küpfer C, Fivet C. Déconstruction Sélective - Construction Réversible: recueil pour diminuer les déchets et favoriser le réemploi dans la construction. Federal Office for the Environment FOEN; 2021.